Hello everyone. Not sure if you've noticed, but time really flies by. If you remember, in our previous blog post we announced that we were going to write a new article every month or two to keep you up to date, and here we are six months later just about finding the time to update you!
Earlier this year we decided to take a step back from regular public performances and concentrate more on parties and weddings. We worked hard to update our setlists with more current and upbeat songs, and the feedback we have had suggests that this has worked very nicely. As mentioned, we have concentrated on parties and weddings and some of these were the most memorable: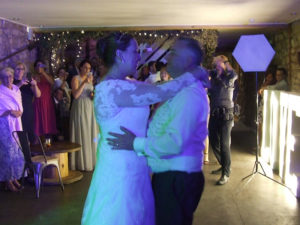 In May we headed down to the fantastic Tower Hill Barns in Trevor for Nichola and Peter's wedding. It was a great night in fabulous surroundings – you should check the venue out if you are planning a wedding in North Wales. After the first dance we played to a full dancefloor, and the event was fantastic. Nichola left great feedback for us, we hope their Mexican honeymoon was as good as the wedding ☺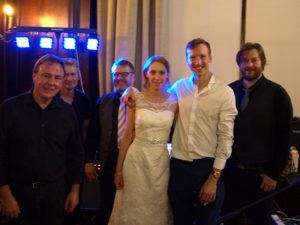 In June we travelled to the famous Portmeirion Village to meet Holly and Adam on their Big Day. If you have never been to Portmerion, check the internet for some pictures. It almost felt like the ultimate wedding destination. Holly found us through our website and booked us after a couple of emails and phone calls. Ben prepared an acoustic version of 'Everlong' by the Foo Fighters for their first dance, and the party kicked off from there. It was a fantastic evening for all and we'd like to say a massive 'congratulations' to the Happy Couple and wish them all the very best for their lives together!
July brought us on to the Wirral for Katie's birthday party. It's a fantastic story for us, as last year we played at Katie's husband's big birthday party, and they liked us so much that they invited us back to be part of another milestone family celebration. The party was fantastic, and as Katie mentioned in her testimonial: 'Bit gutted we don't have any more big birthdays coming up'. We hope to see you guys soon at one of our public shows.
And finally in August we landed in the village of Sychdyn near Mold for Anna and Jack's wedding. The party took place in a Sychdyn Memorial Hall, which was totally transformed into an amazing wedding venue (slightly similar to the one when we appeared on 'Don't Tell The Bride' on BBC TV last year), only far more dazzling, made so by Anna's incredible eye for detail and her brilliant creativity. Anna and Jack met us a couple of times before the Big Day to make sure everything was planned to perfection. Set lists, Disco playlists and the precise order of events were prepared and all was ready to go. The actual event was sensational, definitely a wedding to remember. It really was a beautiful day and an absolute pleasure to be a part of.
If you have reached this point, we apologise for not having the best quality images from some of the parties – it's quite hard to play and take pictures at the same time! This is something we need to improve on in the future…..
We hope to see you all soon.
Firedance